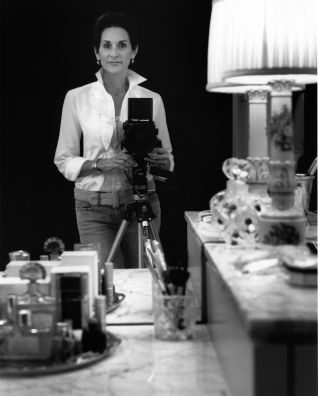 Jean Karotkin (b. 1949)
In 2000, documentary photographer and Dallas native Jean Karotkin began taking black and white portraits of breast cancer survivors as she herself was undergoing treatment for the disease. Her intent was to explore the counterintuitive nature of female beauty and the ways it can be enhanced by angry scars and indomitable courage. Her images garnered recognition from the Dallas Morning News, Texas Monthly, CNN and NPR, among others, and were exhibited at The Houston Center for Photography; the Amon Carter Museum of American Art, Fort Worth, TX; and the Houston Center for Photography.
Karotkin's subsequent portrait series – featuring drag queens, burlesque dancers, and the inmates of Chowchilla women's prison – also highlight and disrupt prevailing notions of beauty. For her most personal body of work, Disappearing Soul, Karotkin turned the camera on herself to capture the languishing effects of Covid-related isolation.
Jean Karotkin is based in New York City.