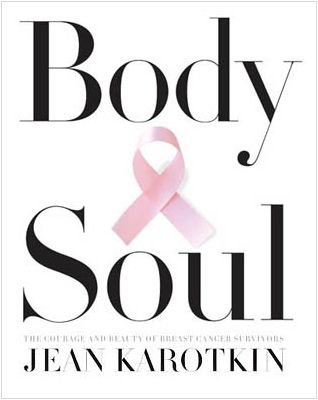 "I have to say that the women with whom I've laughed and cried and whose portraits appear in this book have left me feeling incredibly proud to be a woman. I am in awe of every single one of them." — Jean Karotkin
At the time Jean Karotkin was diagnosed with breast cancer, she found herself at a stage in her life she had never anticipated. Refusing to give up or give in, she garnered the strength needed to beat the disease and, in the process, turned her tragedy into a rebirth, both professionally and personally.
Ironically, breast cancer gave her the power to make life changes and decisions she never thought she could manage. She heard women relate their fears of no longer being attractive, no longer being whole, no longer being feminine and recognized that it was their stories she wanted to document using her newly developed talents in fine art photography.
Gaze into the eyes of her subjects. Take note of the sexy curves, elegent demeanors, dreamy expressions and playful poses. They are aglow with life, despite or perhaps even because of their experience with breast cancer. Because she fought the same battle, Karotkin's photographs reveal a profound energy, grace, and connection between artist and subject. She found a voice and a place in life she never imagined for herself.
Her compelling series of black-and-white photographs was published as a book, BODY & SOUL: The Courage and Beauty of Breast Cancer Survivors (2004). The printed version is available on line at http://bodyandsoul.lbbc.org/
Rich in visual and emotional content, the book heals the body and spirit and is a tribute to the willpower and inner radiance of women who have prevailed over the physical and psychological ravages of breast cancer.